Small Business Saturday November 25th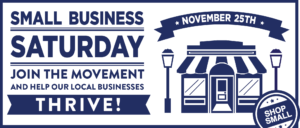 Founded by American Express in 2010, Small Business Saturday is a celebration to support communities around the country and encourage consumers to 'shop small.' The event occurs on the Saturday following Thanksgiving and will take place this year on November 25, 2017. The timing of the event is key as it marks the busiest shopping season for many small businesses.
This event is part of the Shop Small movement which is dedicated to supporting local communities. The purpose of the movement is to bring together shoppers and business owners nationwide in support of diverse communities. American Express started the event, supporting the fact that small businesses play a key role in helping communities thrive. They also believe that they provide a distinct local culture. In order to promote the event AmEx provides materials for supporters and business alike.
There are a variety of ways to get involved as a shopper or a business owner. If you are a shopper you can check out the Small Shop Map which details all the American Express accepting small businesses in the community. As a business owner it is possible to provide customizable marketing materials from the Small Shop studio or to become a qualified American Express Card accepting small merchant. In the Small Shop Studio you will find flyers, posters, website badges and other social media assets.
To learn more about small businesses and the effect they have on your community, visit the Small Business Administration Website at SBA.org.
The event considers small businesses in a variety of forms, ranging in size from just a few employees to a total of 150 making it the perfect opportunity for Burlingame Chamber members to participate. See the list of all members here.